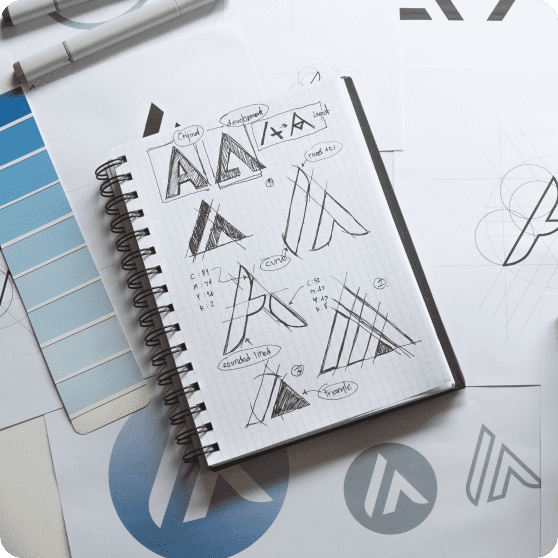 As a leading creative agency, we specialize in creating aesthetic corporate brand identities and branding collateral that sets you apart.
At Yoshiro, our highly skilled design team creates your visual identity that stays consistent for a distinct brand experience. Our professional design and branding solutions are targeted at your prospects and target audiences, helping them turn into clients and making a positive impact on your bottom line.

We create appealing and strong brand style guides for you business, which will guide your business to success.
Flip to see full details
We explore the style and tone of voice for your brand to create a formidable presence that's unforgettable for your potential target audience.

Our professional designers can help you craft and communicate your brand persona across all channels.

Using consistent typography, style, and colors that resonate with your brand identity, creating easily recognizable designs and visual elements.

Your logo attracts your audience towards your service. We make sure that it's a part of your brand identity and makes you stand out from the competition.

As a creative agency, we know exactly how to resonate with your target audience by creating vibrant, popping logo designs that can make your audience reach out for your services.

Count on us for distinct brand logos and graphics tailored to make your business look as good as it possibly can.

Business stationary design reflects your brand's mission and core values.

Aesthetic designs from the likes of notable business cards, letterheads, printed envelopes, and modern presentation folders can set the tone of your business and boost your corporate identity.

After all, you only get one chance to make a lasting first impression!

You might think that brochures are going out of style, but imagine your prospects opening a brochure or leaflet with an inviting tone of voice, appealing colors, a warm aesthetic and a brand that appeals directly to who you are targeting.

The visuals and information on a brochure can stay on your customer's mind for a long time. It is a more focused approach to showcasing all your services effectively. With bespoke designs, we are sure that you'll fall in love with the brochures we design for you!

As a marketing and creative agency, we identify your customers for you, so we know whether to make them fun, bold or colorful the signage designs or opt for an elegant typeface to appeal to them.

We can create a powerful reputation for your brand by creating a unique look, which will separate your business from others in your niche, using quality intuitive banners that speak without being loud.

Our design team thrives on designing consistent themes, from graphics and colors to typography and illustrations, which ensures that each of these elements adds value to your brand's design and purpose.

The aim here is to give your clients a complete brand experience. Our design geeks know exactly how to work up each design element to leave a lasting impression on your target audience!
Do you have any questions for us?
Call us, tweet us, reach us on our social media channels or if you ain't bothered, fill out the form below: