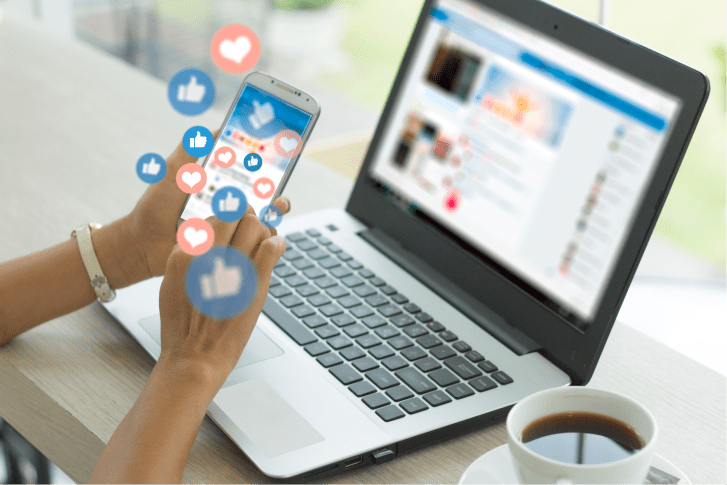 Most businesses seem to forget that social media marketing is about being 'social', which includes being helpful, engaging, entertaining and in general a part of the broader community. Once your business begins to feel like an old friend that you've known for years, that's when your followers feel comfortable interacting with your content.
But how do you ensure you stay at the forefront of their minds? By creating high-value content and posting regularly of course!
Increase brand awareness and visibility
The core of brand building on social media largely involves identifying key topics around your product or services and posting regular updates through text, images and videos. It takes time to get it right, but eventually you will find what kind of content resonates with your audience. Once you figure it out, make sure to stay active on all your social media accounts and post at times when your audience is most active, as it can improve your brand's visibility.
Build brand loyalty and credibility
Does your brand's personality shine through your social media posts? Quality content in the form of well-branded social media posts is a driving factor in attracting new customers and building brand loyalty. With regular posting, you provide your followers with information that is valuable to them and in turn, increases the likelihood of them seeking further information by visiting your company's website and purchasing from you.
De-corporatize your brand
Social media platforms are a place to connect with each other in a friendly manner. No matter whether you are a large corporation or a startup, it's important to have a conversational, friendly, caural and non-corporate approach. The truth is that consumers don't connect with brands in the same way they connect with people, so humanising your brand to come through naturally is the key to success. The stories you tell and the entertaining content you share (memes, videos, humourous content, behind-the scenes images, and more) make your audience see the human side of your business, helping them connect far better with your brand.
If you want your business to stay top-of-mind to your audience, you need to post regularly. It's as simple as that. Regular posting makes your brand more memorable – after all, when a buyer needs a service or product similar to what you are offering, you want them to think of your brand first!